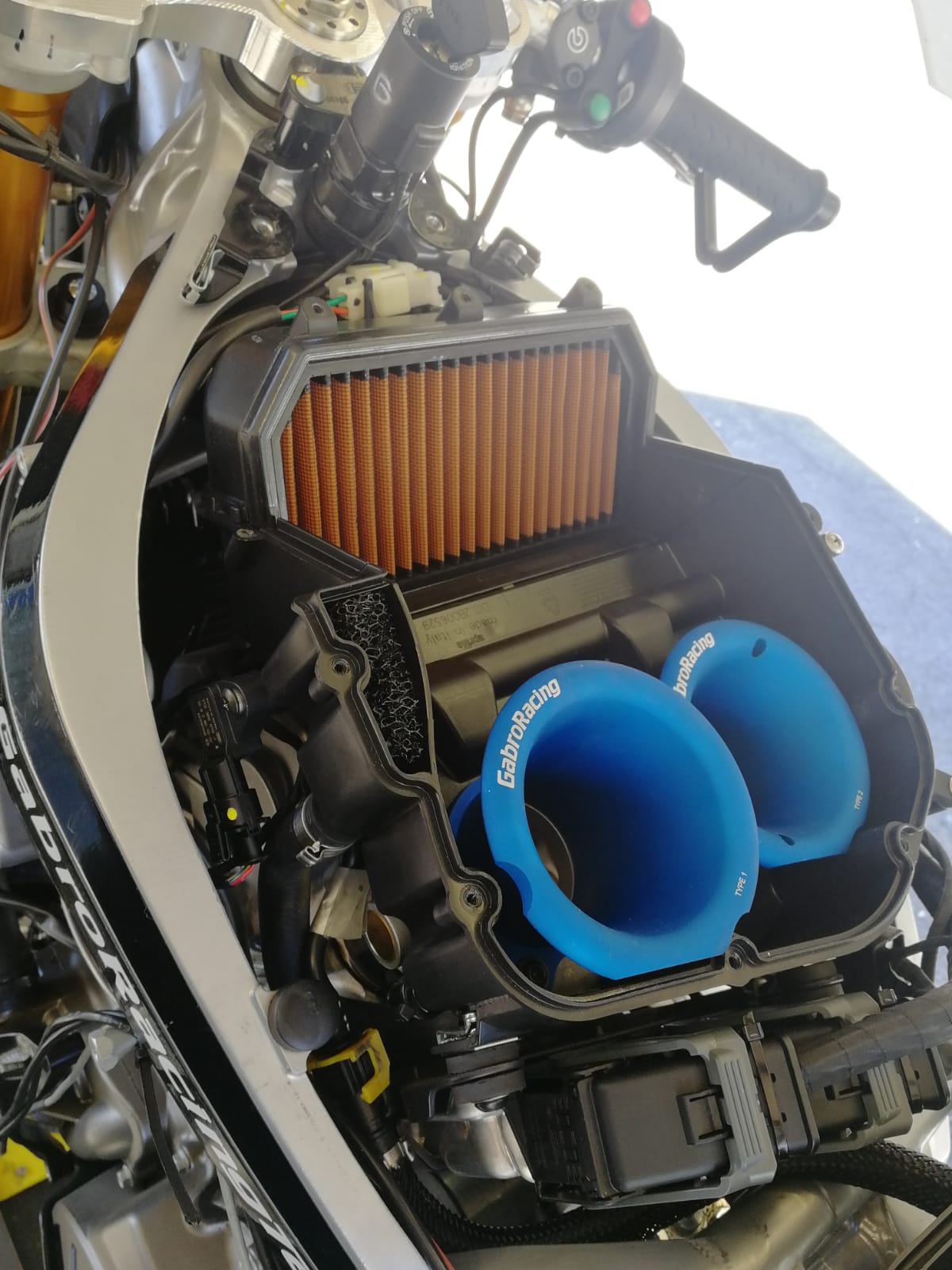 Too nice to be hidden in the airbox, isn't it?
The intake stacks kit for Aprilia RS and Tuono 660 improves torque and power in the whole rpm range, building better rideability, reducing midrange torque dip while giving a very nice, more pronounced and deeper induction sound.
They are the results of countless dyno tests running 3D printed prototypes, until I found the right combination of stacks lengths, taper and bellmouth design.
Testing phase has been intensive because the aimed results had to be verified on stock exhaust, SC and Akrapovic race exhausts, all while building customs ECU maps to match.
Testing still continues day by day with the new exhausts coming to the market.
Once the design had been determined, the final billet stacks were made out of 6082 T6 aluminium alloy using finest CNC machinery, to ensure a 100% trouble-free installation in the tight space of the 660 airbox.
The blue anodized finish and the laser engraved signature complete an outstanding package that I hope you will all like!
Stack works fine on OEM RS or Tuono maps: stock map if used on stock exhaust, or race map if used on de-kat exhaust; but in order to get the most performance out of your bike every kit includes a one-time-use promo discount card that allows one free download of the "STACKS" mated ECU map from the UpMap map store (you would need a previously purchased T800+ tool to use it). Read here to get more infos about this flashing tool we support.
Presently available "STACKS" maps, made to match the most popular exhaust systems:
Stock exhaust
Akrapovic
SC Project
Arrow
Over Racing
QD
Mivv (both undebelly and traditional versions)
I suggest adding a sport air filter to the kit, I personally use a Sprint Filter code PM176S. It gives a nice improvement in air flow and guarantees a good level of motor protection.
The RS in one of the very few bikes that shows actual gaing using a race airfilter, i suggest use of the Sprint becouse of it's durability, ease to clean, and it works dry with no oiling needed.
You can download the installation manual HERE.
ATTENTION: this is a race product to be used only on closed circuits at your own risk, both stacks kit and UpMap mapping are not intended for street use.
Contact us for more info